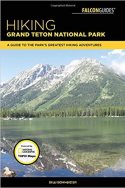 Camping in Grand Teton National Park
Frontcountry Camping:
Camping in Grand Teton National Park is only permitted in designated campgrounds. The park has six drive-in campgrounds that provide more than 1050 individual campsites. Advanced reservations are only accepted for group camping at the Colter Bay RV Park and the Headwaters Campground & RV Sites at Flagg Ranch. All other sites operate on a first-come, first-served basis.
Grand Teton's two group campgrounds can accommodate a total of 16 groups.
The Headwaters and Colter Bay campgrounds offer showers, while the Jenny Lake Campground is a tent only campground. Colter Bay is the only campground in the park that's open during the winter. The six campgrounds are as follows:
* Colter Bay Campground: 350 sites
* Gros Ventre Campground: 350 sites
* Headwaters Campground & RV Sites: 175 sites
* Jenny Lake: 49 sites
* Lizard Creek Campground: 60 sites
* Signal Mountain Campground: 86 sites
For additional information on each of Grand Teton's frontcountry campgrounds, please click here.
Backcountry Camping:
With more than two hundred miles of trails meandering throughout the park, Grand Teton National Park is an absolute hiker's paradise, and ranks as one of the most popular backpacking destinations in the entire National Park System.
To camp in the backcountry of the Grand Tetons you'll need a permit, which can be obtained at the Colter Bay and Craig Thomas Discovery visitor centers, or at the Jenny Lake Ranger Station.
In order to minimize impacts on the park's resources, the number of permits issued on any given day is limited. Backpackers can obtain day-of-trip permits in person year round. You can also make reservations online, or by phone, from January 5th through May 15th. For additional information, please call the backcountry office at 307-739-3309 or 307-739-3397, or visit the park's online backcountry camping guide.
To purchase the National Geographic Trails Illustrated Map for Grand Teton National Park, please click here.