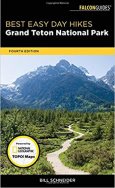 Phelps Lake Overlook
Trail Features:
Scenic Lake Views


Trail Location:
Death Canyon Trailhead
Roundtrip Length:
2.0 Miles

Trailhead Elevation:

6807 Feet

Total Elevation Gain:
395 Feet
Avg. Elev Gain / Mile:
395 Feet
Highest Elevation:
7200 Feet
Trail Difficulty Rating:
2.79 (easy)
Parking Lot Latitude
43.65597
Parking Lot Longitude
-110.78128

Nearby Lodging

:

Teton Village
Trail Description
:
The hike to the Phelps Lake Overlook begins from the Death Canyon Trailhead. To reach the trailhead from Moose Junction, turn left onto Moose-Wilson Road and drive roughly 3 miles south to reach the turn-off for the Death Canyon Trailhead. Turn right and drive another 2 miles to the end of the road. Although the first mile is paved, the last mile travels over a fairly rugged gravel road. The park highly recommends using a 4-wheel drive vehicle to reach the trailhead. At the point where the paved road ends there's a small parking area that allows people in 2-wheel drive vehicles to park and walk the last mile to the trailhead.
The hike begins with a moderate climb through a forest dominated by lodgepole pines. Hikers will also pass a few aspen groves along the way as well. A short distance from the trailhead you'll reach the Valley Trail junction. Hikers should turn left onto the Valley Trail to continue towards the Phelps Lake Overlook.
At exactly one mile hikers will arrive at the Phelps Lake Overlook. Resting at an elevation of 7200 feet, this perch stands 567 feet above Phelps Lake, and offers outstanding panoramic views of the 750-acre, glacially-carved lake, the sixth largest lake in Grand Teton National Park. Directly across the lake is the Laurance S. Rockefeller Preserve, and beyond that in the far-off distance are the Gros Ventre Mountains.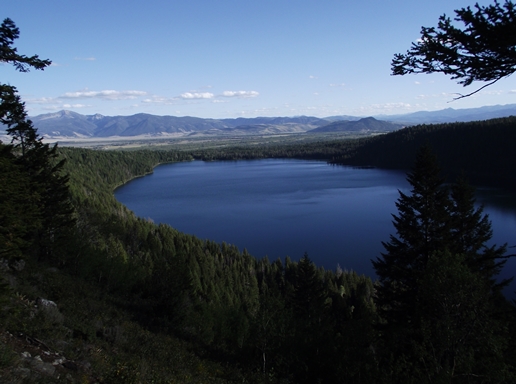 While at the overlook take note of the old-growth Douglas firs nearby, some of which are estimated to be between 300 and 400 years old. Hikers should also keep an eye out for marmots, black bears and moose along the route as well.
If you still have the energy and wish to explore the area around Phelps Lake, you'll have the option of traveling another 1.4 miles to reach a small sandy beach area along the lake's northern shore.
Overall, the Phelps Lake Overlook is a great family hike, and is suitable for most ages.