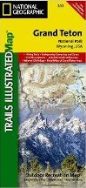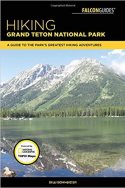 Hiking Grand Teton National Park is the authoritative guide to all hiking trails in Grand Teton National Park - from short, easy day trips to multi-day backcountry adventures.
Alaska Basin (Basin Lakes)
Trail Features:
Panoramic Views, Alpine Lakes, Wildflowers


Trail Location:
Teton Canyon (South Teton Trailhead)
Roundtrip Length:
16.6 Miles

Trailhead Elevation:

6950 Feet

Total Elevation Gain:
2635 Feet
Avg. Elev Gain / Mile:
317 Feet
Highest Elevation:
9568 Feet
Trail Difficulty Rating:
21.87 (strenuous)
Parking Lot Latitude
43.75563
Parking Lot Longitude
-110.91545
Trail Description
:
The hike to Basin Lakes in the Alaska Basin begins from Teton Canyon on the west side of Grand Teton National Park. From Highway 33 in the heart of Driggs, ID, turn eastbound onto Ski Hill Road. At just over a mile you'll reach a fork in the road. Bear left here and continue on Ski Hill Road, heading towards Grand Targhee Resort. Roughly 4 miles from Highway 33 you'll reach the Wyoming state line, and will soon pass through the town of Alta. At roughly 6.4 miles you'll reach the Targhee National Forest boundary. At 6.6 miles, just after crossing over the cattle guard, turn right onto Teton Canyon Road, which soon turns into a gravel road. From the junction drive another 4.6 miles to the South Teton Canyon Trailhead, located at the end of the road. As mentioned, Teton Canyon Road is a gravel road with lots of pot holes and washboard. However, a two-wheel drive vehicle should have no problems making it if drivers take their time.
The Alaska Basin Trail starts off by passing through a pleasant evergreen forest. Almost immediately it enters the Jedediah Smith Wilderness within the Caribou-Targhee National Forest. From this point forward the entire hike stays within the confines of the wilderness, and never enters Grand Teton National Park.
As the trail proceeds up Teton Canyon it begins climbing a mild grade while passing through a few aspen groves, as well as some long stretches of high brush. This is a good place to make a lot of noise to warn any bears that might be around that you're passing through their territory. You should also keep an eye out for moose in and around the willow-choked creek on your left. Most of this hike follows along the South Fork Teton Creek.
At just over 1.5 miles from the trailhead the valley opens up where you'll have some great views of The Wedge, Mt. Jedediah Smith and Mt. Meek almost directly straight ahead.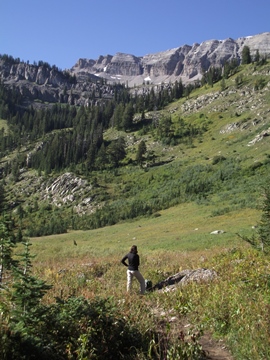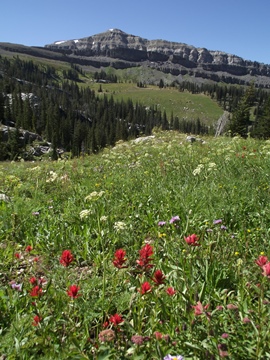 At just over 2.8 miles hikers will reach the Teton Shelf Trail junction, which branches off to the right and heads towards Devils Stairs, roughly nine-tenths of a mile away. This trail eventually climbs up to Mt. Meek Pass. To continue on towards Alaska Basin hikers should veer to the left here.
Depending on the season, or recent weather patterns, there will likely be several sections of trail that are fairly muddy. Since much of the trail is shared with horses, it can make for some pretty rough and/or mucky conditions.
Above the Teton Shelf Trail junction the trail travels through mostly wooded terrain along a moderate grade. However, at roughly the 5.1-mile mark, the trail begins traveling through more open country on terrain that becomes a little steeper.
At roughly 5.8 miles hikers will reach a section of trail that traverses across some bare rock. For a very short section the trail may be a little difficult to follow. Keep an eye out for a few cairns, stay towards the bottom of the bare rock area, and you shouldn't have any problems picking-up the trail on the other side.
At roughly 6.4 miles the trail enters a large meadow where you'll enjoy some amazing views of Mt. Meek and The Wedge. Beyond this point the trail becomes quite rocky and rugged, while passing through intermittent groves of trees and meadows. Hikers will also find large boulders, more bare rock areas, and a few waterfalls. The trail also crosses over several creeks without the benefit of a footbridge where some rock hopping is involved. Some of the creek crossings are fairly narrow, while some are wider where you'll have to watch for loose stepping stones. Hikers may want to consider bringing trekking poles to assist with balance during these crossings.
At just over 7.7 miles hikers will finally reach the top of the climb and enter the Alaska Basin zone. 11,938-foot Buck Mountain will be the prominent peak looking straight ahead from this point.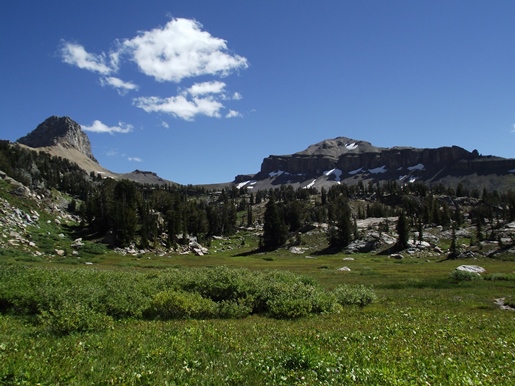 A short distance later, at just over 7.8 miles, hikers will arrive at the Teton Crest Trail junction. A turn to the left would lead hikers towards Sunset Lake. To continue on towards Basin Lakes you should turn right at this junction.
At almost 8 miles the Teton Crest Trail splits off toward the right. Hikers should take the left fork to continue towards Basin Lakes and Mirror Lake. As you might expect, the scenery in and around this high alpine basin is absolutely stunning.
From the junction the trail traverses around and between a series of small ponds. At roughly 8.3 miles you'll finally reach Mirror Lake, the largest of the Basin Lakes. From its eastern shore the views of Mt. Meek and the surrounding mountains are quite spectacular.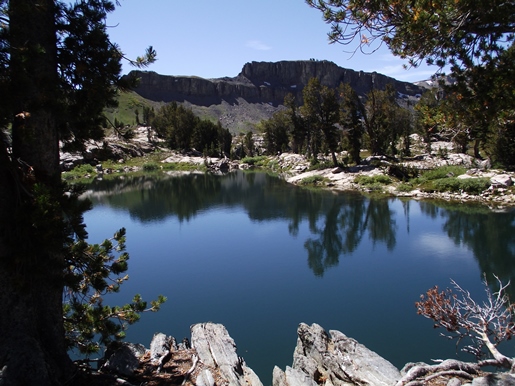 By far this is the best day hike in the Grand Tetons for alpine meadows and scenery. The basin is known for its exceptional wildflower displays in late July and early August. Even during our early September hike there were still quite a few varieties left. Depending on your location within the basin, Battleship Mountain, Veiled Peak, Buck Mountain and Mt. Meek are all visible from various spots.
Hikers should note that the entire route passes through prime bear habitat, so you should be alert, travel in groups of three or more, carry bear spray, and make a lot of noise.
Hikers should always be aware of lightning risk while hiking in the Grand Tetons, especially at higher elevations. As a general rule of thumb you should plan to turnaround before noon in order to avoid the notorious afternoon thunderstorms that frequent the mountains during the summer months. Hikers should also be prepared for extreme sun exposure, wind, cool temperatures, and rapidly changing weather conditions while on the trail. Make sure you have the proper gear with you, and know what safety precautions you need to consider beforehand.