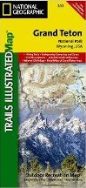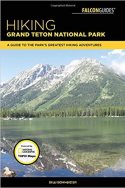 Hiking Grand Teton National Park is the authoritative guide to all hiking trails in Grand Teton National Park - from short, easy day trips to multi-day backcountry adventures.
Amphitheater Lake
Trail Features:
Subalpine Lake, Panoramic Views, Wildlife


Trail Location:
Lupine Meadows Trailhead
Roundtrip Length:
10.2 Miles

Trailhead Elevation:

6732 Feet

Total Elevation Gain:
2980 Feet
Avg. Elev Gain / Mile:
584 Feet
Highest Elevation:
9698 Feet
Trail Difficulty Rating:
16.16 (strenuous)
Parking Lot Latitude
43.73458
Parking Lot Longitude
-110.74158
Trail Description
:
The hike to Amphitheater Lake begins from the Lupine Meadows Trailhead. To reach the trailhead turn west off Teton Park Road at Lupine Meadows junction, located 7 miles north of Moose Junction. The trailhead is located at the end of the gravel road, roughly 1.6 miles from the junction.
From the parking area the trail leads southward while following along the forested periphery of Lupine Meadows. This initial section of trail is mostly flat, but soon begins ascending after only one-third of a mile. The route passes through a mixed conifer forest of lodgepole pine, Engelmann Spruce, subalpine and Douglas fir.
At roughly two-thirds of a mile you'll enjoy a view of 13,770-foot Grand Teton and 12,928-foot Mt. Owen through the trees. Soon afterwards there will be another break in the canopy that offers the first good views of Jackson Hole.
At roughly 1.3 miles the trail begins ascending along a narrow ridgeline, with Burned Wagon Gulch on the left, and Glacier Gulch on the right. This section of trail also offers sporadic views of the Grand Tetons on either side of the ridge.
At just over 1.7 miles hikers will arrive at the Valley Trail junction. A turn to the left would lead hikers down to Bradley Lake and Taggart Lake. To continue on towards Amphitheater Lake hikers should proceed straight ahead at this junction.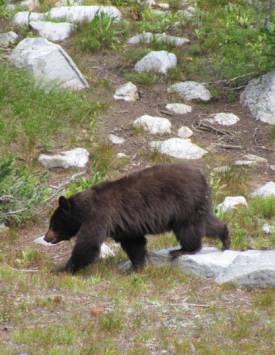 Beyond the junction the trail makes a strenuous climb over a couple of long switchbacks. As you climb higher views of Jackson Hole will become even more prominent. Both Bradley Lake and Taggart Lake will eventually come into view as well. I highly recommend starting your hike as early in the morning as possible in order to avoid climbing the steep mountain slopes when the sun is blazing high in the sky.
At roughly 3.1 miles hikers will reach the Garnet Canyon Trail / Amphitheater Lake Trail split. The trail to the left travels 1.1 miles into Garnet Canyon where you'll enjoy some absolutely stunning views of Middle Teton. To continue on towards Amphitheater Lake hikers should turn right onto the Amphitheater Lake Trail, which was once known as the Glacier Trail. Both the Garnet Canyon and Glacier Trails were among the first hiking trails to be constructed in Grand Teton National Park.
From the junction the trail continues climbing on a moderately strenuous grade, while traversing over several more switchbacks. The sparsely wooded mountainside along this section of trail offers good views of Jackson Hole, as well as Bradley Lake and Taggart Lake. Along the way you'll pass through a long stretch of dead trees, the result of the pine beetle infestation that's impacted forests across the west.
At roughly 4.75 miles the trail finally levels out for a short stretch, and begins traveling along the edge of a small grassy meadow that offers another great view of Grand Teton. We saw a large black bear foraging among the rotting trees here. Black bear sightings are quite common along this route. As a result, the park strongly urges hikers to travel in groups of three or more, make a lot of noise, and to carry bear spray while hiking in the Tetons.
Hikers may see a variety of wildlife along this route, such as mule deer or ruffed grouse.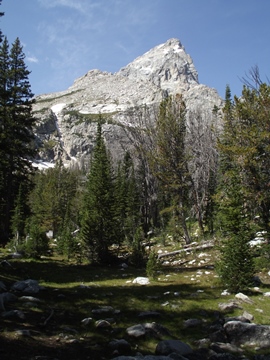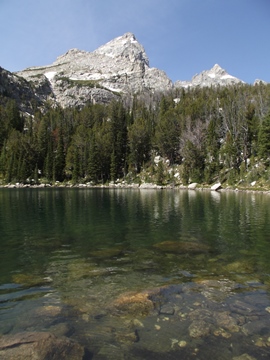 Just beyond the meadow hikers will reach the short side trail that leads to Surprise Lake, which offers an outstanding view of Grand Teton from its southeastern shore.
From Surprise Lake it's only a quarter-mile walk along a moderate grade to reach the eastern shores of Amphitheater Lake.
Amphitheater Lake lies in a cirque basin below 11,618-foot Disappointment Peak, which stands almost directly to the west. From this subalpine lake, arguably the most beautiful in the park, you'll be able to see Middle Teton, Disappointment Peak, Grand Teton, Mt. Owen and Teewinot Mountain, looking from left to right.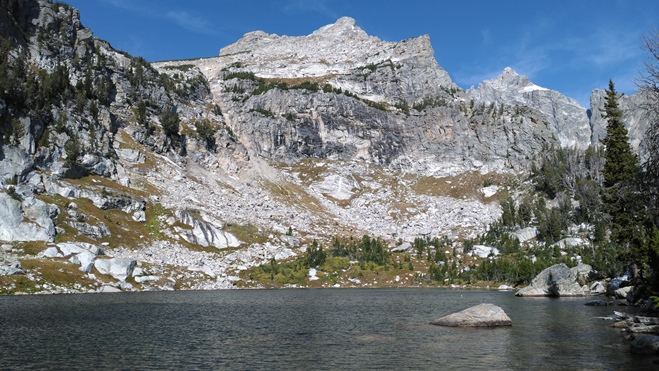 The lake served as a base camp for many historic first ascents along the north side of Grand Teton. At 13,770 feet, Grand Teton is the highest mountain in the Teton Range. The peak was renamed as Mt. Hayden by the 1872 Hayden Expedition, but most people continued to call it Grand Teton Peak. In 1931 the U.S. Board of Geographic Names recognized its more common name, and then shortened it to Grand Teton in 1970.
The first documented ascent of Grand Teton occurred on August 11, 1898 by four climbers; Franklin Spalding, William O. Owen, Frank Petersen, and John Shive. Although two members of the Hayden Geological Survey claimed to have reached the summit on July 29, 1872, that ascent is disputed by climbers and historians who have concluded, after studying the climber's accounts, that the two reached a side peak known as The Enclosure. Moreover, the 1898 climbers found no evidence of a previous ascent, including a cairn which was a common practice for the expedition.
Although it may not be apparent at first, there is another mountain directly in front of Grand Teton. Early mountaineers thought they could climb Grand Teton directly from the western shore of Amphitheater Lake. However, the mountain now known as Disappointment Peak, received its name in 1925 when two climbers reached its summit and discovered a deep chasm between it and Grand Teton. After failing to rappel into the gap the climbers gave the peak its name.