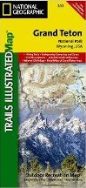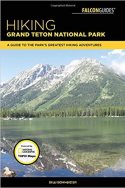 Hiking Grand Teton National Park is the authoritative guide to all hiking trails in Grand Teton National Park - from short, easy day trips to multi-day backcountry adventures.
Marion Lake (via Granite Canyon)
Trail Features:
Lake, Panoramic Views, Wildflowers


Trail Location:
Granite Canyon Trailhead
Roundtrip Length:
18.1 Miles

Trailhead Elevation:

6378 Feet

Total Elevation Gain:
2900 Feet
Avg. Elev Gain / Mile:
320 Feet
Highest Elevation:
9250 Feet
Trail Difficulty Rating:
23.90 (strenuous)
Parking Lot Latitude
43.6072
Parking Lot Longitude
-110.79272
Trail Description
:
This out and back hike to Marion Lake begins from the Granite Canyon Trailhead, located roughly 0.8 miles north of the Granite Canyon Entrance Station on Moose-Wilson Road. If you prefer to explore more of the terrain in this area, you do have the option of taking the aerial tram to the top of Rendezvous Mountain and hiking out to Marion Lake. From the lake you'll hike down through Granite Canyon and then return back to Teton Village via the Valley Trail. There is, however, a fee for the tram ride to the top of Rendezvous Mountain.
From the Granite Canyon Trailhead the hike begins in a sagebrush meadow that offers outstanding views of Mt. Hunt, Prospectors Mountain and Albright Peak. This first section of trail also passes through several aspen groves. At roughly two-thirds of a mile the trail crosses over Granite Creek, and soon begins passing through a pleasant mixed forest.
At roughly 1.5 miles from the trailhead you'll arrive at the Valley Trail junction. To continue towards Marion Lake hikers should turn right here. Shortly thereafter the trail crosses over Granite Creek once again, before reaching another split in the trail. The Valley Trail continues towards the right at this junction. Hikers should turn left here to continue along the Granite Canyon Trail.
Shortly after passing the junction the trail begins climbing. As you proceed towards the mouth of Granite Canyon, 8426-foot Apres Vous Peak will be the prominent mountain on your left. This canyon, along with all the other canyons in Grand Teton National Park, was formed by glaciers roughly 15,000 years ago, which left behind the U-shaped valley you'll be traversing through.
For the most part the trail climbs a moderate grade along the lower portions of the canyon, while meandering in and out of open terrain and wooded areas. Keep an eye out for moose in the willow-choked creek below.
As you proceed into the upper portions of the canyon the terrain becomes more open. The trail ascends on mostly a mild grade, and for the most part, isn't nearly as rocky or rugged as compared to the other canyons in the park.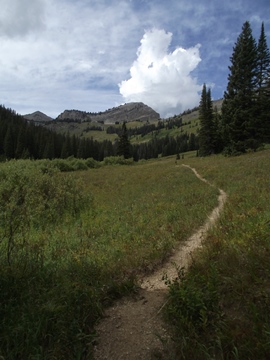 At 6.4 miles hikers will reach the Rendezvous Mountain Trail junction. To continue towards Marion Lake you should proceed straight ahead here. Just beyond this junction is the Upper Granite Canyon Patrol Cabin, which was built by the Civilian Conservation Corps in 1935. After decades of slow deterioration the cabin was finally rehabilitated in 2013. Today the site is listed on the National Register of Historic Places.
At roughly 6.6 miles you'll emerge from a wooded area where you'll have a great view of 10,450-foot Rendezvous Mountain on your left. On the other side of this hulking mountain is the Jackson Hole Mountain Ski Resort.
At 7.1 miles hikers will reach the group campsite. After passing the campsite you'll emerge from another wooded area and will enter a large open meadow that offers outstanding views of the upper canyon.
At roughly 7.25 miles hikers will arrive at the Open Canyon Trail junction, which branches off to the right to climb Mount Hunt Divide, and then descend through Open Canyon towards Phelps Lake. Hikers should proceed straight ahead at this junction.
The upper portion of the Granite Canyon Trail alternates between forested areas and large open meadows with expansive views. The upper canyon area is also known for its exceptional wildflower displays during the early-to-mid summer time period. Look for a wide variety of wildflowers, including Indian paintbrush, lupine and alpine sunflowers, among many others. Hikers will also pass through several areas with high brush, including willows, which may be good places to spot moose. Since this is also prime bear habitat, be sure to make a lot of noise, especially where visibility is low. You should also consider carrying bear spray.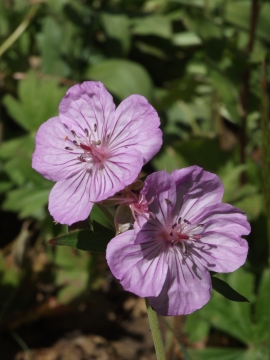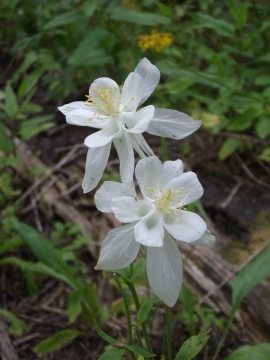 As you approach the Teton Crest Trail the terrain begins to steepen, while the trail passes through one last wooded section. Even in early September we still saw a variety of wildflowers along this stretch of trail, including several white columbines.
At just over 8.4 miles hikers will reach the Teton Crest Trail junction. To continue hikers should turn right here to proceed towards Marion Lake, which is now roughly six-tenths of a mile away.

As you begin the final climb towards Marion Lake hikers will have some outstanding views looking down Granite Canyon. You'll even be able to see Jackson Hole and the Gros Ventre Mountains in the far off distance.
At just over 9 miles hikers will finally reach the top of the ridge, and shortly thereafter, will arrive at the southern shore of Marion Lake. This beautiful subalpine lake lies in a cirque basin just below the summit of 10,537-foot Housetop Mountain. If you wish to see some alternate views of the lake and surrounding mountains, the Teton Crest Trail continues around to the eastern end of the lake. Also, just east of the lake, is another large meadow that offers spectacular wildflowers displays. The best time to visit the lake is in late July when the wildflowers are at peak bloom in this area. In addition to a few other hikers, it's very likely you'll be sharing the lakeshore with a few pikas and marmots as well.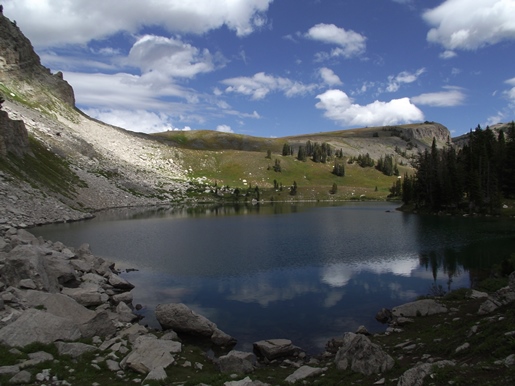 Hikers should note that snow can linger in this area until late July. Early season hikers should check with a ranger on conditions before deciding to hike this trail.
Hikers should always be aware of lightning risk while hiking in the Grand Tetons, especially at higher elevations. As a general rule of thumb you should plan to turnaround before noon in order to avoid the notorious afternoon thunderstorms that frequent the mountains during the summer months. Hikers should also be prepared for extreme sun exposure, wind, cool temperatures, and rapidly changing weather conditions while on the trail. Make sure you have the proper gear with you, and know what safety precautions you need to consider beforehand.