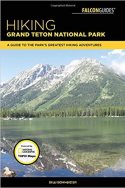 Hiking Grand Teton National Park is the authoritative guide to all hiking trails in Grand Teton National Park - from short, easy day trips to multi-day backcountry adventures.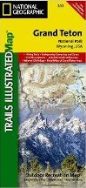 Holly Lake
Trail Features:
Panoramic Views, Lake, Wildflowers


Trail Location:
Leigh Lake Trailhead
Roundtrip Length:
13.0 Miles

Trailhead Elevation:

6875 Feet

Total Elevation Gain:
2575 Feet
Avg. Elev Gain / Mile:
396 Feet
Highest Elevation:
9424 Feet
Trail Difficulty Rating:
18.15 (strenuous)
Parking Lot Latitude
43.78826
Parking Lot Longitude
-110.7313
Trail Description
:
The hike to Holly Lake begins from the Leigh Lake Trailhead, located just north of Jenny Lake. To reach the trailhead turn west off Teton Park Road at the North Jenny Lake Junction, located roughly 10.6 miles north of Moose Junction, and 10 miles south of Jackson Lake Junction. Drive another 1.4 miles to the turn-off for the String Lake and Leigh Lake trailheads. After turning right, continue for another 0.4 miles to the Leigh Lake Trailhead at the end of the road.
From the parking area walk down along the short paved path to String Lake where you'll immediately reach the Valley Trail, also known as the String Lake Loop Trail. Once on the path turn right and begin heading north along the eastern shore of String Lake.
From the trailhead you'll enjoy great views of 12,325-foot Teewinot Mountain and 11,144-foot Rockchuck Peak. As you proceed along the shores of String Lake you'll also be treated to some absolutely stunning views of Mt. Moran.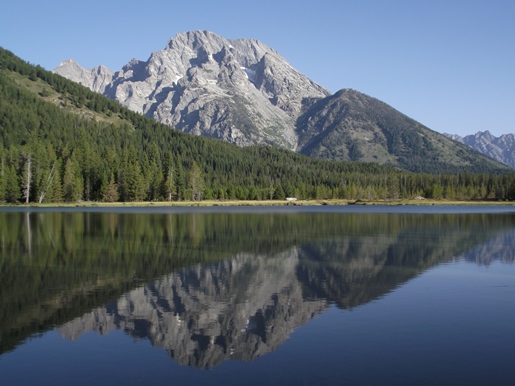 At 12,605 feet Mt. Moran is the 4th highest mountain in Grand Teton National Park. It's named for artist Thomas Moran whose landscape paintings were critical to the creation of Yellowstone National Park. The mountain was also the site of a tragic airplane crash. On November 21, 1950, a C-47 cargo plane owned by the New Tribes Mission crashed into the peak during a thunderstorm, killing all 21 missionaries on board. Although a rescue party was able to locate the wreckage several days later, the precarious position of the crash made it impossible to recover the plane or its victims.
At one-half mile from the trailhead hikers will pass the String Lake Horse Trail, which branches off to the right. Hikers should proceed straight ahead at this junction to continue towards Holly Lake.
At almost nine-tenths of a mile hikers will reach the Bearpaw Lake Trail, which branches off towards the right. This trail follows along the eastern shore of Leigh Lake, and eventually travels to Bearpaw Lake. To continue on towards Holly Lake hikers should veer to the left and head towards the Paintbrush Canyon Trail.
A short distance from the junction the trail crosses over the Leigh Lake Outlet. Although the trail sign at this junction is a little confusing, you should turn left and cross the footbridge.
From the footbridge the trail skirts away from the lake and begins making a moderate climb through a lodgepole pine forest. At almost 1.6 miles it reaches the Paintbrush Canyon Trail junction. The trail continuing straight ahead resumes the loop hike around String Lake, while the trail leading up the switchback on the right continues towards Paintbrush Canyon. Hikers should turn right here to continue on towards Holly Lake.
At roughly 3 miles from the trailhead, near the mouth of Paintbrush Canyon, you'll begin passing through an extremely long stretch of huckleberries, which will go on almost continuously for the next mile or so. You'll definitely want to make a lot of noise as you pass through this section of trail. In grizzly country it's always a good idea to travel in groups of at least three people. You should also carry bear spray, and know how to use it.
At 3.5 miles hikers will reach Paintbrush Canyon Creek, and at almost 3.8 miles will arrive at an overlook that offers a pretty good view of Leigh Lake.
At roughly 3.9 miles the trail crosses over the creek, and shortly thereafter emerges into fairly open terrain. Here you'll enjoy some great views into Paintbrush Canyon. This valley is known for its outstanding wildflower displays, including blue columbine, Indian paintbrush and mountain gentian.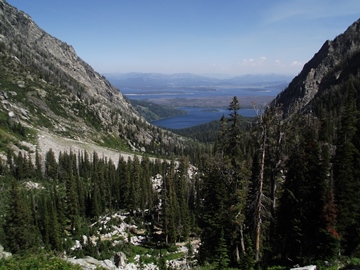 As the trail climbs the creek will now be on your left side, but for the most part will be hidden by willows. This is likely a very good place to spot moose. As you proceed higher the trail also passes through several long sections of chest high vegetation. You'll definitely want to make a lot of noise and be "bear aware" throughout this area as well.
At roughly 4.4 miles you'll reach a very short section of trail that was damaged by a flash flood. As the trail climbs higher it will pass over two additional damaged areas, all of which are very short sections that shouldn't be an issue, unless there's high water.
Above the flash flood zone the trail begins passing through a large boulder field. The trail itself also becomes fairly strenuous. Much of the upper portions of the route traverses over fairly rocky and rugged terrain. Though not necessary, trekking poles may be helpful along this stretch.
As you continue to climb higher you'll enjoy some outstanding views of Leigh Lake and Jackson Lake towards northeast.
At roughly 6 miles hikers will reach the Holly Lake junction. The trail to the left continues on towards Paintbrush Divide. Hikers should turn right here to continue to the lake. Just beyond the junction the trail passes a small pond (see photo below), which shouldn't be confused with Holly Lake, which is still another four-tenths of a mile away.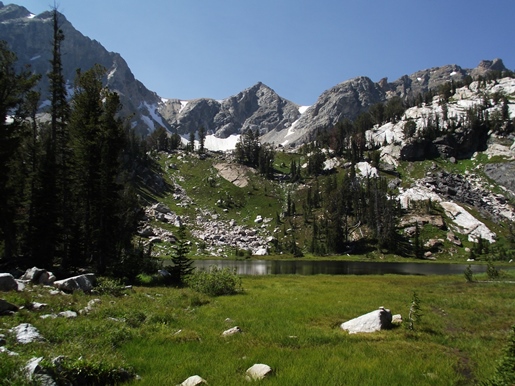 At 6.5 miles hikers will finally arrive at Holly Lake. This small glacial lake lies just below the southern slopes of 11,590-foot Mt. Woodring. Directly to the west is Paintbrush Divide, while looking towards the east you'll be able to see 11,144-foot Rockchuck Peak. Once at the lake we recommend heading off towards the right and proceeding a short distance along a faint social trail that leads to the east end of the lake. The views of the mountains surrounding the lake, including the Paintbrush Divide area, are much better from this vantage point.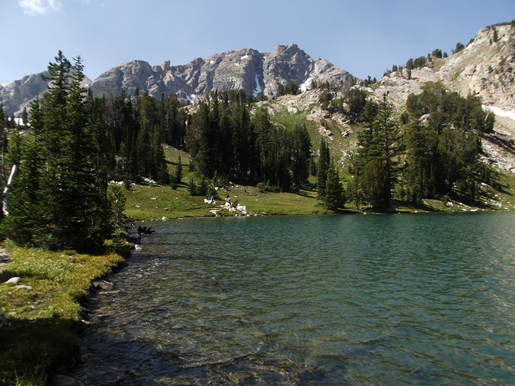 I should also mention that I thought the views from the small pond near the junction were more scenic than Holly Lake. Be sure to stop there on your way up or down. You should note that it can be fairly marshy around the tarn, so access may be limited depending on your timing.
Above Holly Lake the trail continues up towards Paintbrush Divide, and eventually down to Lake Solitude. Long-distance hikers can create an epic loop hike by continuing beyond Lake Solitude, and returning back to the Jenny Lake area via the Cascade Canyon Trail. This extremely long, but spectacular loop hike travels almost 20 miles. Camping is available in a couple of locations, thus allowing backpackers to split this hike into multiple days.
Hikers may want to note that the side trail that leads to Holly Lake continues for another third-of-a-mile to reconnect with the Paintbrush Canyon Trail. This completes a short loop, if you wish to explore more of the terrain immediately below Paintbrush Divide.
Hikers should also note that snow and ice can remain in the upper portions of Paintbrush Canyon through July. Higher up, near the divide, snow usually remains until mid-August. Early season hikers should check on conditions with a ranger before deciding to hike this trail.