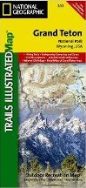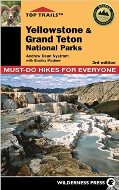 Directory of Grand Teton Trails by Location
Below is a directory of Grand Teton trails that have been grouped by general location within the park, such as trails near Jenny Lake, Jackson Lake or Teton Village. A more precise location is listed in the table, with trailhead directions on each individual trail page. To get a general idea on the location of any of the Grand Teton trails listed below, please check out our Grand Teton National Park map page.
By clicking on any of the trail names below you'll find more detailed information for each hike, including trail descriptions, directions, key features, pictures, video, elevation profiles and maps.
Difficulty Rating Defined: a difficulty rating of less than 5 is generally considered to be an easy hike. Between 5 and 10 is moderate, and anything over 10 is considered to be a strenuous hike. For a more detailed explanation on the difficulty ratings for all Grand Teton trails, please click here.
R/T on the table headings below stand for total round trip mileage.
North Tetons: Jackson Lake, Colter Bay
| | | | | | |
| --- | --- | --- | --- | --- | --- |
| Trail Name | General Location | Trail Features | R/T Miles | Elevation Gain | Difficulty Rating |
| Christian Pond Loop | Jackson Lake | Scenic Views, Wildlife, Wildflowers | 3.6 | 250 | 4.10 |
| Emma Matilda Lake Loop (via JL Lodge) | Jackson Lake | Panoramic Views, Lake Views, Wildlife | 10.7 | 750 | 12.20 |
| Emma Matilda Lake Loop (via Two Ocean) | Two Ocean | Panoramic Views, Lake Views, Wildlife, Fall Aspens | 11.0 | 600 | 12.20 |
| Flagg Canyon | Flagg Ranch | River Views | 4.0 | 150 | 4.30 |
| Grand View Point | Jackson Lake | Panoramic Views | 6.1 | 790 | 7.68 |
| Hermitage Point | Colter Bay | Panoramic Views, Lake Views, Wildlife | 10.0 | 380 | 10.76 |
| Heron Pond-Swan Lake Loop | Colter Bay | Scenic Lake Views, Wildlife | 3.2 | 115 | 3.43 |
| Lakeshore Trail | Colter Bay | Panoramic Views, Lake Views, Wildlife | 2.1 | 150 | 2.40 |
| Lunch Tree Hill | Jackson Lake | Panoramic Views, Wildlife, History | 0.4 | 87 | 0.57 |
| Polecat Creek Loop Trail | Flagg Ranch | Wildlife | 2.5 | 80 | 2.66 |
| Signal Mountain | Signal Mountain | Panoramic Views, Wildlife, History | 6.8 | 920 | 8.64 |
| Two Ocean & Emma Matilda Lakes (Inside Loop) | Two Ocean | Panoramic Views, Lake Views, Wildlife, Fall Aspens | 9.4 | 1175 | 11.75 |
| Two Ocean & Emma Matilda Lakes (Outside Loop) | Two Ocean | Panoramic Views, Lake Views, Wildlife, Fall Aspens | 13.6 | 965 | 15.53 |
| Two Ocean Lake Loop | Two Ocean | Scenic Lake Views, Wildlife, Fall Aspens | 6.5 | 150 | 6.80 |
Central Tetons: Jenny Lake, Lupine Meadows
| | | | | | |
| --- | --- | --- | --- | --- | --- |
| Trail Name | General Location | Trail Features | R/T Miles | Elevation Gain | Difficulty Rating |
| Amphitheater Lake | Lupine Meadows | Subalpine Lake, Panoramic Views, Wildlife | 10.2 | 2980 | 16.16 |
| Bearpaw Lake | Leigh Lake | Panoramic Views, Lake Views | 7.8 | 110 | 8.02 |
| Cascade Canyon | Jenny Lake | Panoramic Views, Waterfall | 10.0 | 1110 | 12.22 |
| Cunningham Cabin | Moran Junction | History, Panoramic Views | 0.5 | 10 | 0.52 |
| Garnet Canyon | Lupine Meadows | Panoramic Views | 8.4 | 2240 | 12.88 |
| Hidden Falls | Jenny Lake | Waterfall, Lake Views | 1.3 | 230 | 1.76 |
| Holly Lake | Leigh Lake | Panoramic Views, Subalpine Lake, Wildflowers | 13.0 | 2575 | 18.15 |
| Inspiration Point | Jenny Lake | Panoramic Views, Waterfall | 2.2 | 450 | 3.10 |
| Jenny Lake Loop | Jenny Lake | Panoramic Views, Lake Views | 7.5 | 275 | 8.05 |
| Lake Solitude | Jenny Lake | Panoramic Views, Subalpine Lake, Wildflowers, Wildlife | 15.3 | 2350 | 20.00 |
| Leigh Lake | Leigh Lake | Panoramic Views, Lake Views | 3.7 | 50 | 3.80 |
| Moose Ponds | Jenny Lake | Scenic Lake Views, Wildlife, Fall Aspens | 2.7 | 195 | 3.09 |
| Paintbrush-Cascade Loop | Jenny Lake | Panoramic Views, Subalpine Lake, Wildflowers | 19.7 | 3975 | 27.65 |
| South Fork Cascade Canyon | Jenny Lake | Panoramic Views, Waterfall | 20.8 | 3920 | 28.64 |
| String Lake Loop | String Lake | Panoramic Views, Lake Views | 3.8 | 275 | 4.35 |
South Tetons: Teton Village, Phelps Lake, Taggart Lake
| | | | | | |
| --- | --- | --- | --- | --- | --- |
| Trail Name | General Location | Trail Features | R/T Miles | Elevation Gain | Difficulty Rating |
| Aspen Ridge-Boulder Ridge Loop | Phelps Lake | Scenic Lake Views, Fall Aspens, History | 6.2 | 785 | 7.77 |
| Death Canyon Patrol Cabin | Death Canyon | Panoramic Views, History | 7.9 | 2040 | 11.98 |
| Granite Canyon Loop | Teton Village | Panoramic Views, Wildflowers | 12.9 | 640 | 14.18 |
| Lake Creek-Woodland Trail Loop | Phelps Lake | Scenic Lake Views | 3.4 | 260 | 3.92 |
| Marion Lake (via Arial Tram) | Teton Village | Panoramic Views, Subalpine Lake, Wildflowers | 13.0 | 3560 | 20.12 |
| Marion Lake (via Granite Canyon) | Granite Canyon | Subalpine Lake, Panoramic Views, Wildflowers | 18.1 | 2900 | 23.90 |
| Marion Lake Loop | Teton Village | Panoramic Views, Subalpine Lake, Wildflowers | 16.6 | 1525 | 19.65 |
| Menors Ferry | Moose Junction | History, Scenic Views | 0.4 | 10 | 0.42 |
| Phelps Lake | Death Canyon | Scenic Lake Views | 4.7 | 965 | 6.63 |
| Phelps Lake Loop | Phelps Lake | Scenic Lake Views, Wildflowers | 7.2 | 475 | 8.15 |
| Phelps Lake Overlook | Death Canyon | Scenic Lake Views | 2.0 | 395 | 2.79 |
| Static Peak Divide | Death Canyon | Panoramic Views, Wildflowers | 16.3 | 5000 | 26.30 |
| Taggart Lake | Taggart Lake | Panoramic Views, Lake Views, Fall Aspens | 3.3 | 300 | 3.90 |
| Taggart Lake-Beaver Creek Loop | Taggart Lake | Panoramic Views, Lake Views, Wildlife | 3.8 | 425 | 4.65 |
| Taggart Lake-Bradley Lake Loop | Taggart Lake | Panoramic Views, Lake Views, Fall Aspens | 5.5 | 585 | 6.67 |
West Tetons: Teton Canyon, Teton Pass
| | | | | | |
| --- | --- | --- | --- | --- | --- |
| Trail Name | General Location | Trail Features | R/T Miles | Elevation Gain | Difficulty Rating |
| Alaska Basin | Teton Canyon | Panoramic Views, Alpine Lakes, Wildflowers | 16.6 | 2635 | 21.87 |
| Black Canyon Overlook | Teton Pass | Outstanding Views, Wildflowers | 3.7 | 848 | 5.40 |
| Coal Creek Meadows | Coal Creek Trailhead | Outstanding Panoramic Views, Wildflowers | 5.7 | 1970 | 9.64 |
| Darby Wind Cave | South Fork Darby Canyon | Scenic Views, Waterfalls, Geology | 5.2 | 1800 | 8.80 |
| Mary's Saddle | Grand Targhee Resort | Panoramic Views | 5.0 | 500 | 6.00 |
| Mt. Glory | Teton Pass | Outstanding Panoramic Views | 2.0 | 1655 | 5.31 |
| Table Mountain | Teton Canyon | Panoramic Views | 12.0 | 4100 | 20.20 |