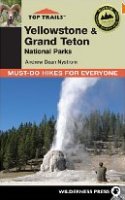 Top Trails Yellowstone & Grand Tetons has all visitors need to enjoy 45 of the best trips in the area: tranquil backcountry lakes, panoramic summits, glacier-carved canyons, steaming geyser basins, vast meadows teeming with wildlife, and much more.
Other Wyoming Hiking Trails
The following are detailed descriptions for other day hiking trails in the Wyoming area. Check back periodically as this list will grow as we continue our hiking adventures around the state.
Alaska Basin - in Targhee National Forest
Coal Creek Meadows - west side of Teton Pass
Black Canyon Overlook - at Teton Pass
Mt. Glory - at Teton Pass
Avalanche Peak - in Yellowstone National Park
Sherd Lake - in Bighorn National Forest near Buffalo
Rainy Lake - in Bighorn National Forest near Buffalo
Cloud Peak Wilderness Overlook - in Bighorn National Forest near Buffalo
Otter Lake - in Bighorn National Forest near Buffalo
Other Hiking Destination in the Region
Rocky Mountain Hiking Trails
Glacier National Park Trails
Discover the West
:
Discover new hiking opportunities across the west